Annual free BBQ – October 7, 2023
Hot dogs, burgers and sausage sandwiches! Our fathers favorite tradition. Please join us for food and beautiful views. In the event of rain event will be on Sunday.
Your Designs Unlimited will be there selling Quill Hill merchandise.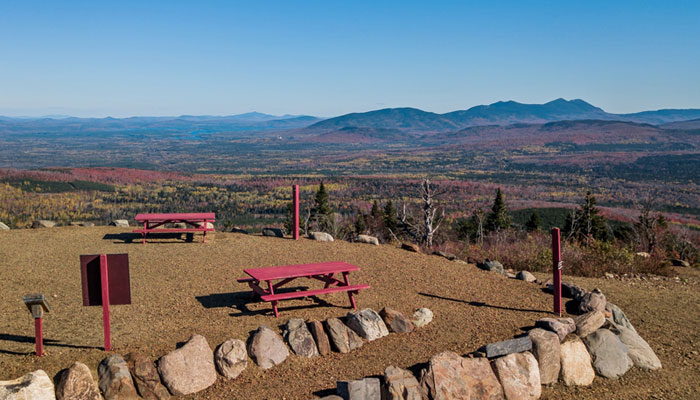 Welcome to Quill Hill – Maine's best and most accessible views.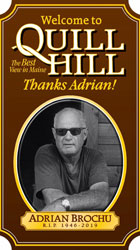 Quill Hill is located on Oddy's Road off Route 16 between the towns of Rangeley and Stratton. A well maintained four mile dirt road leads you to the 2848' summit where you will find ample parking and easy maneuvering for even the largest vehicles. Yes, that includes rv's!
There are many ways to enjoy Quill Hill. Just below the summit a wood fired grill (wood provided) and picnic tables are available for your use. From here you can either walk along our 3/4 mile wheelchair path or drive another two minutes to the summit.   We welcome visitors to enjoy stargazing, but we ask that you refrain from spending the night.
Quill Hill is open 24 hours a day from late May through mid October (longer if weather permits) to vehicles of all types – cars, motorcycles, atvs, and rvs. The remainder of the year the gate will be closed but visitors are welcome to hike, bike, ski or even snowmobile to the summit.
Quill Hill is privately owned and maintained for the public to enjoy. Please respect posted speed limits and carry out your trash. Donations are appreciated to help defer the cost of road maintenance. We suggest $10 per vehicle and $5 per passenger. There are two donation boxes, one at the bottom and one that you can't miss on your way down near the grill area. We also accept donations through Venmo.
Quill Hill exists because of the monumental efforts of a single man – Adrian Brochu. Adrian began working on the road in 2010 and continued until his passing in October 2019. We encourage you to read about Adrian's fascinating life here.