We are closed for the Season!  See you next year.
Solar eclipse – April 8, 2024
Quill Hill will not be open to vehicles (including ATVs) for the solar eclipse on April 8th. The gate is currently closed and locked and will remain as such until May 2024. 
Remaining closed for the eclipse was a difficult decision. We know that many people will be very disappointed. Our sincere apologies.
We considered a lot of factors, but the deal breaker was that the road simply cannot handle the level of traffic we anticipate during the eclipse. The road is both labor intensive and expensive to maintain and our priority remains keeping the road in the best condition possible to ensure our usual May-October season. 
Don't forget that non-motorized transportation is always welcome at Quill – hiking, snowshoeing, skiing, cycling…  Plan ahead and keep in mind that there are essentially no parking spaces at the bottom of our road.
The Rangeley-Stratton area will be a perfect spot to view the eclipse! Rangeley's Shadows of the Sun Festival (https://www.rangeleymaine.com/calendar/event/13705) is worth looking into. If we hear of other events, we will let you know.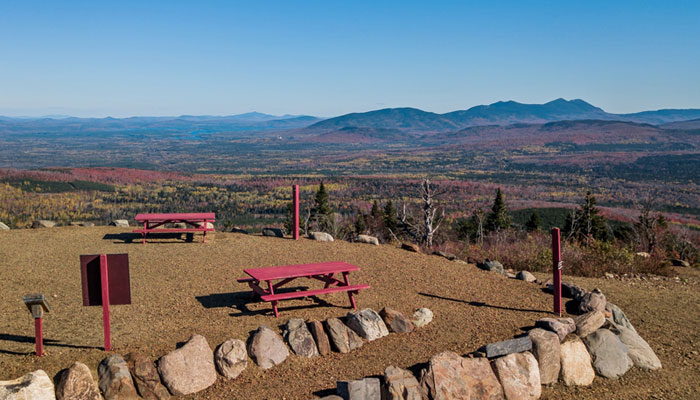 Welcome to Quill Hill – Maine's best and most accessible views.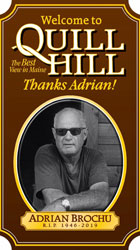 Quill Hill is located on Oddy's Road off Route 16 between the towns of Rangeley and Stratton. A well maintained four mile dirt road leads you to the 2848' summit where you will find ample parking and easy maneuvering for even the largest vehicles. Yes, that includes rv's!
There are many ways to enjoy Quill Hill. Just below the summit a wood fired grill (wood provided) and picnic tables are available for your use. From here you can either walk along our 3/4 mile wheelchair path or drive another two minutes to the summit.   We welcome visitors to enjoy stargazing, but we ask that you refrain from spending the night.
Quill Hill is open 24 hours a day from late May through mid October (longer if weather permits) to vehicles of all types – cars, motorcycles, atvs, and rvs. The remainder of the year the gate will be closed but visitors are welcome to hike, bike, ski or even snowmobile to the summit.
Quill Hill is privately owned and maintained for the public to enjoy. Please respect posted speed limits and carry out your trash. Donations are appreciated to help defer the cost of road maintenance. We suggest $10 per vehicle and $5 per passenger. There are two donation boxes, one at the bottom and one that you can't miss on your way down near the grill area. We also accept donations through Venmo.
Quill Hill exists because of the monumental efforts of a single man – Adrian Brochu. Adrian began working on the road in 2010 and continued until his passing in October 2019. We encourage you to read about Adrian's fascinating life here.